Utility EDF ordered the replacement components from MHI in 2010 following an international bidding process. MHI received the order jointly with Comex Nucléaire - a subsidiary of ONET Technologies - its alliance partner in the French nuclear power market since 2002.
The steam generators - each 21 meters in length and weighing 300 tonnes - were manufactured at MHI's facility in Kobe, Japan. Their pressure-resistant containers - made of low-alloy steel (containing manganese, molybdenum and nickel) - each house more than 4000 heat transfer tubes manufactured of a thermally treated nickel-chromium-iron alloy.
Steam generators are used in pressurised water reactors (PWR) to transfer heat from the reactor coolant into water in a secondary circuit, producing the steam used to power the electricity-generating turbines. Each steam generator contains thousands of kilometres of tubes through which hot water flows. Nuclear power plants replace steam generators as part of regular maintenance and when they are modernised.
The Cruas plant, on the banks of the Rhone river, comprises four 900 MWe PWRs which started operating between 1984 and 1985. The steam generators of unit 4 were replaced in 2014.
EDF operates a fleet of 58 PWRs, 34 of which are 900 MWe types which came into operation in the late 1970s and 1980s. The company is sequentially replacing the steam generators at its PWRs, a major undertaking but one that can enable the units' operating lives to be extended. In July 2009 the French Nuclear Safety Authority approved EDF's safety case for 40-year operation of the 900 MWe units, based on generic assessments.
MHI said it has received orders from EDF for a total of 15 replacement steam generators since 2005. Worldwide, the company has supplied a total of 31 replacement steam generators to several countries, including France, Belgium and the USA.
Researched and written
by World Nuclear News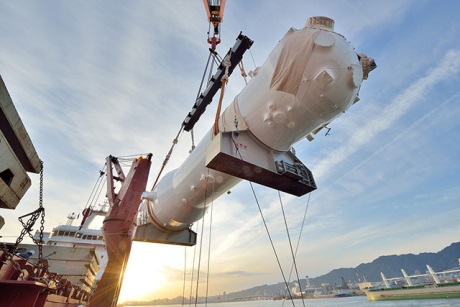 Japan's Mitsubishi Heavy Industries (MHI) has delivered three replacement steam generators for unit 1 of the Cruas nuclear power plant in south-western France. They will be installed later this year during a scheduled maintenance outage.