EnBW formally applied to the state in May 2013 for permission to decommission and demolish Neckarwestheim 1 (GKN I) and Philippsburg 1 (KKP 1). The units were among the eight oldest German reactors taken out of service on the orders of Chancellor Angela Merkel, days after a tsunami hit Japan's Fukushima Daiichi nuclear power plant in March 2011.
In February 2016, the company received permits for the construction of decommissioning infrastructure - including residual material treatment centres and interim site-waste storage facilities - at Neckarwestheim and Philippsburg.
The company was today issued with the first permit to decommission and dismantle KKP 1, which has been free of nuclear fuel since last December. The permit covers the preparation and dismantling of plant equipment and the release of non-contaminated and non-irradiated substances, as well as handling of radioactive residues. Most of this work will take place within plant buildings, the demolition of which is not covered by the permit.
EnBW said the first dismantling work at KPP 1 will probably begin next month. It plans to dismantle parts of the primary circuit, including pumps, piping, cable ducts and electrical installations. It will also begin dismantling work in the turbine hall. Dismantling of the unit is expected to take 10-15 years to complete. It would then be released from atomic law and be considered a conventional industrial plant.
Baden-Württemberg environment minister Franz Untersteller said: "With the approval now granted, EnBW can also enter the next phase of the decommissioning of its nuclear facilities in Philippsburg. The concept presented by EnBW meets all requirements for a safe and environmentally sound reduction including the treatment and storage of contaminated waste.
"The decommissioning and dismantling permit granted today for KKP 1 is another important building block in the implementation of our comprehensive decommissioning strategy," said Jörg Michels, managing director of EnBW Kernkraft GmbH.
EnBW received a decommissioning and dismantling permit for Neckarwestheim 1 from the ministry in early February and said it began this work at the end of that month.
Some piping in the reactor building of the unit was symbolically dismantled yesterday by Untersteller and EnBW board member Hans-Josef Zimmer to mark the start of the work.
Neckarwestheim 1 thus became the first of the eight units shut down in 2011 to begin dismantling work.
Although its Philippsburg 2 and Neckarwestheim 2 are expected to continue operating until late 2019 and late 2022, respectively, EnBW applied in July last year to decommission those units.
Researched and written
by World Nuclear News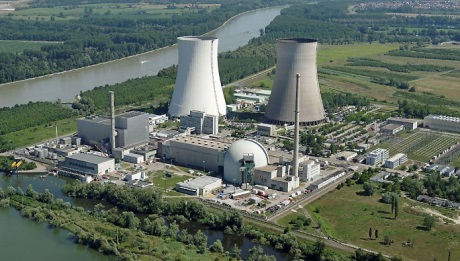 The Baden-Württemberg ministry of environment has issued German utility EnBW a permit to decommission and dismantle unit 1 of its Philippsburg nuclear power plant. Meanwhile, dismantling of unit 1 at its Neckarwestheim plant has now officially begun.