Quoted by the Interfax news agency, Putin told delegates at the International Forum on Energy Efficiency in Moscow: "We are now putting into operation the next nuclear icebreaker, Sibir, which will cut ice three meters thick, and two more [icebreakers] will be launched. And then, in a few years, we plan to put into operation an icebreaker that will be able to cut through ice with no limit on thickness."
The head of state stressed that Russia is the "only country in the world that has such a powerful nuclear icebreaking fleet", adding that it would help solve the problem of delivering energy resources, including liquefied natural gas, along the Northern Sea Route.
ZiO-Podolsk, part of the engineering subsidiary of Russian state nuclear corporation Rosatom, said it has shipped the second integrated building of the RITM-200 reactor - for Sibir, which was launched on 22 September. The first integrated building was shipped in mid-September. The equipment weighs 147.5 tonnes, is 7.3 meters in height and has a diameter of 3.3 meters.
The equipment will be transported to Saint Petersburg by an articulated railway conveyor with a load capacity of 240 tonnes, since the cargo is oversized, Zio-Podolsk said. It will then be transferred by barge to the Baltic Shipyard.
Sibir is the second of the LK-60Y series of universal icebreaker vessels, and part of Project 22220. Its keel was laid in May 2015, while that of the first, Arktika, was laid in November 2013. These vessels are designed to break through ice 3 meters thick.
RITM-200 reactors have 175 MWt each and are deigned to deliver 60 MW at the propellers via twin turbine-generators and three motors.
Arktika and Sibir will be the largest and most powerful icebreakers in the world - 173.3 meters long and 34 meters wide, with a planned displacement of 33.54 thousand tonnes. The icebreaker will be able to conduct caravans of ships in arctic conditions, punching ice up to 2.9 meters in the course of travel.
Russia recently celebrated the anniversary of the Arktika - the first surface vessel to reach the North Pole, on 17 August 1977. The seventh and largest Arktika class icebreaker - 50 Years of Victory - entered service in 2007 and sailed to the North Pole to commemorate the 40th anniversary of the Arktika's expedition.
The new generation of Arktika is 173 meters long, 34 meters wide, and has a water displacement of 33,540 tonnes.
Researched and written
by World Nuclear News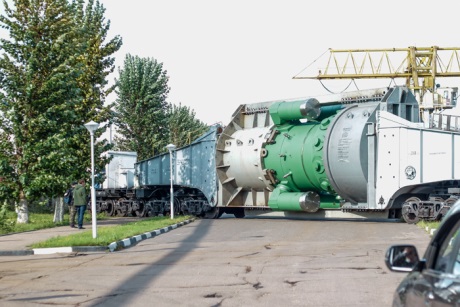 Russia plans to put into operation a nuclear icebreaker "capable of piercing ice of any thickness", the country's president, Vladimir Putin, said yesterday.
News Date:
Thursday, October 5, 2017