Emergency preparedness is a regulatory requirement, and Canadian nuclear plant operators must perform station-level exercises and drills several times a year. Nuclear power plants are required to conduct large integrated emergency exercises every three years. The results of these exercises form part of the Canadian Nuclear Safety Commission's (CNSC) compliance programme and are considered during licence renewal hearings.
ExUC, conducted over 6-7 December, aimed to test the preparedness of OPG and its partners in response to a nuclear emergency at Pickering. As well as assessing emergency plans, objectives included testing the interoperability between organisations, the consultation process during decision making, and the coordination and effective delivery of messages to the public and media. The Region of Durham, City of Toronto, City of Pickering and various other provincial and federal government agencies, as well as OPG and the CNSC, took part.
The CNSC used the exercise to test its updated Nuclear Emergency Response Plan and recently renovated Emergency Operations Centre, with experts in reactor safety, protective actions, regulatory operations, communications, government relations and logistics testing their readiness in the event of a nuclear emergency. A separate CNSC team was responsible for observing the exercise and providing feedback to OPG.
"If there is one thing we have learned from the Fukushima Daiichi nuclear accident, it is to prepare for the unexpected," CNSC Vice-president and Chief Science Officer Peter Elder said ahead of the exercise. "Emergency exercises are one very effective way to prepare."
As well as testing and validating emergency preparedness at nuclear sites, such exercises also verify that the different levels of government understand their roles during a nuclear emergency, he said.
"We are committed to continuously improving our own emergency management capabilities and integrate lessons learned to make sure we are ready," Elder said.
After completion of the exercise, OPG Nuclear President and CEO Glenn Jager said: "Safety is a core value at OPG. This exercise clearly demonstrates that, in the unlikely event of a nuclear incident, we have a plan in place that will protect the health and safety of the public and the environment."
OPG plans to continue operating the six-unit Pickering plant to ensure a reliable source of low-carbon electricity while four units at the Darlington plant undergo a CAD 12.8 billion ($9 billion) refurbishment. All six Pickering reactors would operate until 2022, after which two would be shut down with four running to 2024. Pickering's operating licence expires next year, and OPG in August submitted an application to the CNSC to renew it. Public hearings on the application are scheduled to take place in April and June.
Researched and written
by World Nuclear News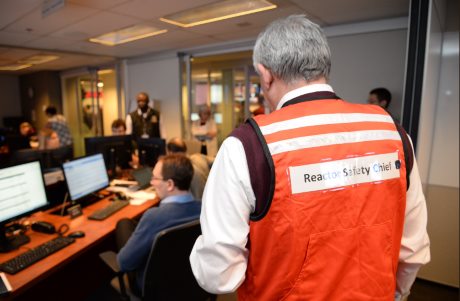 Ontario Power Generation (OPG) and over 30 partner organisations have completed Exercise Unified Control (ExUC), a two-day, large-scale emergency preparedness exercise at the Pickering nuclear power plant. The exercise is part of the lead-up to the relicensing of the plant in 2018.
News Date:
Wednesday, December 13, 2017