An IAEA Integrated Regulatory Review Service (IRRS) team today completed an eight-day mission to the Czech Republic. The mission - hosted by the government and the State Office for Nuclear Safety (SÚJB) - was a follow-up mission to one conducted in 2013.
IRRS missions are designed to strengthen the effectiveness of the national radiation safety regulatory infrastructure, while recognising the responsibility of each member state to ensure nuclear and radiation safety. The missions compare regulatory technical and policy issues with IAEA safety standards and, where appropriate, good practices elsewhere. The regulatory review process also draws directly upon the wide-ranging international experience and expertise of the regulatory review team members. The review results in a report that identifies good practices and provides recommendations and suggestions for improvement.
The latest mission found that most of the recommendations made by the earlier mission had been implemented. The IAEA said the Atomic Act - which entered into force at the start of 2017 - and the development of supporting regulatory decrees based on IAEA safety standards "represents significant achievements in this regard".
IAEA mission team leader Petteri Tiippana, director general of Finnish nuclear regulator Stuk, said: "The Atomic Act has created a good foundation for a robust safety framework. We also noted improvements in human resources management, including long-term strategic planning, competence mapping and staff training."
The IAEA team said the establishment of a Working Group on Medical Exposure had enhanced cooperation between the Ministry of Health, SÚJB and other parties, "leading to significant results". SÚJB was also found to have made significant progress in inspections and enforcement.
The team said the Czech Republic should continue progressing towards full development and implementation of SÚJB's management system. It also suggested SÚJB should consider developing regulations to support the implementation of provisions in the Atomic Act on "existing exposure situations and remedial activities".
SÚJB president Dana Drábová said, "The positive results of this IRRS follow-up review provide SÚJB with another confirmation of the good direction of our efforts in improving the national safety framework, which was recently strengthened by the adoption of new national legislation in the nuclear area."
The final IRRS mission report will be submitted to the Czech government in about three months, the IAEA said. It noted Czech authorities have said they plan to make the report public.
The Czech Republic has six nuclear units at the Dukovany and Temelín sites with an installed capacity of 3924 MWe and electricity generation of 26.8 TWh, which is up 8.5% since 2005. Nuclear accounts for 32.5% of the country's electricity generation, but is expected to rise to between 46% and 58% by 2040.
Researched and written
by World Nuclear News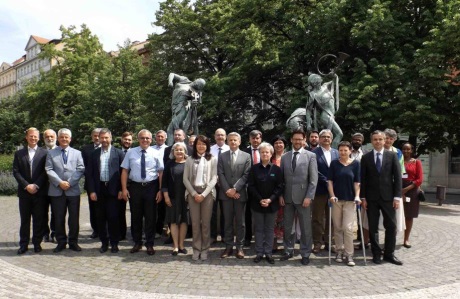 The Czech Republic has significantly enhanced its regulatory framework for nuclear and radiation safety in recent years, but work remains in implementing the country's new Atomic Act, a mission from the International Atomic Energy Agency (IAEA) has concluded.