The IAEA launched its Knowledge Management Assist Visit (KMAV) service in 2005. A member state can request a KMAV for one of its nuclear organisations. The mission - which will consider existing good practices and recommend possible improvement options - is designed to assist the organisation in establishing or improving its knowledge management program.
An IAEA KMAV mission - comprising experts from Hungary, Russia, Ukraine, the UK and the USA - visited the Daya Bay plant near Shenzhen in Guangdong province on 15-19 May.
The mission concluded a year-long preparation and training on developing an integrated approach to capacity building and knowledge management. The mission team provided guidance to the plant managers on how to incorporate knowledge management practices into organisational business processes.
John De Grosbois, head of the IAEA's Nuclear Knowledge Management Section, said: "Senior managers understand that knowledge is an asset and resource that must be protected and maintained through a well thought knowledge management program. This, in turn, will enable and support effective decision making, especially when risk-significant issues arise."
Deputy plant manager Lee Chi Sing said, "We will take into account all IAEA recommendations on the implementation of our knowledge management projects. Especially mentoring, coaching and talent searching would be interesting practices to apply at the Daya Bay nuclear power plant."
Daya Bay lies 50 kilometres to the northeast of Hong Kong in mainland China's Guangdong province and was the first commercial nuclear power plant to open in China. Its two 944 MWe French-designed pressurized water reactors have been in service since 1994. It is 75% owned by China General Nuclear, while China Light and Power (CLP) holds the remaining 25%. In September 2009, CLP's arrangement to take 70% of Daya Bay's output was extended to 2034, while in February 2014 CLP reached an agreement to increase that proportion to 80% over the next five years.
The plant is managed and operated by the Daya Bay Nuclear Power Operations and Management Company, which also manages and operates the four reactors at the adjacent Ling Ao plant.
The KMAV mission to Daya Bay is the third such IAEA mission to China. In 2014, KMAV missions were hosted by China's Research Institute of Nuclear Power Operation and by the Tianwan nuclear power plant.
The IAEA said, "To successfully continue the safe and efficient operation of its 37 existing reactors and 20 others under construction, China's nuclear industry requires a large, qualified workforce and an effective knowledge management system to preserve acquired knowledge."
Researched and written
by World Nuclear News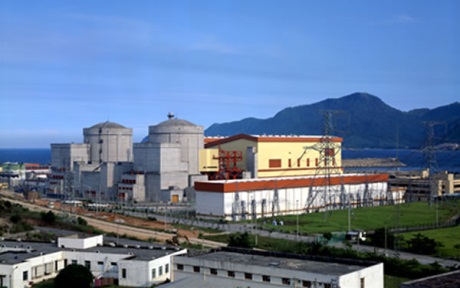 A roadmap for the effective transfer of knowledge from the existing operators of China's Daya Bay nuclear power plant to future operators has been drawn up with the assistance of experts from the International Atomic Energy Agency (IAEA).