Areva and KazAtomProm have today signed a new strategic agreement to strengthen their cooperation in Kazakhstan's uranium mining sector. The agreement opens new opportunities to develop and enhance their long-standing Katco joint venture.
The agreement was signed in Astana by KazAtomProm chairman Askar Zhumagaliyev and Areva CEO Phillippe Knoche. According to the two companies, the agreement "meets [the] interests of Kazakhstan and France, opens new opportunities for further development and enhancement of effective operations" for the 51% Areva-49% KazAtomProm joint venture.
Katco, established in 1996, produces uranium at Moyinkum (Moinkum) in the South Kazakhstan region. A strategic agreement signed by the partners in 2008 expanded the joint venture from mining 1500 tU to 4000 tU per year.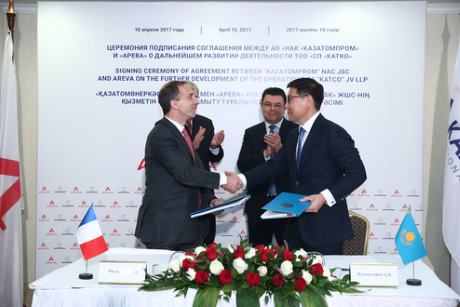 Areva and KazAtomProm extend uranium cooperation